Love brings them together.
Death can't tear them apart.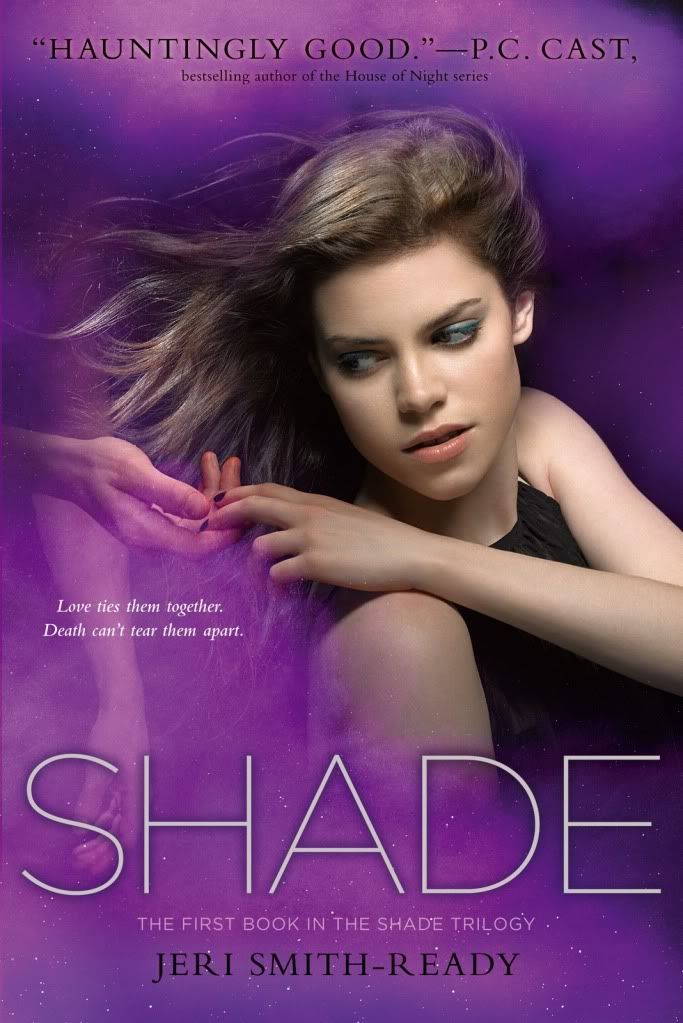 Best. Birthday. Ever. At least, it was supposed to be. With
Logan's band playing a crucial gig, Aura knows it will be the
most memorable night of her boyfriend's life. She never
thought it would be his last.
Logan's sudden death leaves Aura devastated. He's gone.
Well, sort of.
Like everyone born after the Shift, Aura can see and talk
to ghosts. Aura's always found her ability annoying--but not
with Logan's violet-hued spirit still hanging around. Because
dead Logan is almost as real as ever.
Almost
.
As Aura's relationships with the dead and the living grow
ever complicated, she must decide whom to trust with her
heart…and with clues to the secret of the Shift.




Buy
SHADE

Now!

Order at

Constellation Books

for an autographed copy and support Jeri's local independent bookseller!

Also available at:

Cover Image Gallery

Watch the Trailer
Official SHADE trailer created by Simon Pulse and Circle of Seven Productions.

The Music of SHADE
The following playlists and annotations are directly from Jeri's blog on
"The Music Of Shade"
. K&K can take no credit for this fantastic collection of music (unfortunately)!
| | |
| --- | --- |
| Song | Artist |
| Time to Pretend | MGMT |
| Streams of Whiskey | Various Artists |
| Dammit | blink-182 |
| Devil's Dance Floor** | Flogging Molly |
| Lust | The Raveonettes |
| The Rip | Portishead |
| Sleeping With Ghosts | Placebo |
| Houses | Great Northern |
| If I Ever Leave This World Alive | Flogging Molly |
| Chasing Cars | Snow Patrol |
| I Lost Lenore** | The Nevermores |
| St. Valentine's Day Massacre | Cocktail Slippers |
| Love Song | The Cure |
| Infinity | The XX |
| I Will Possess Your Heart | Death Cab for Cutie |
| The Bells of Dublin/Christmas Eve | The Chieftains |
| The Parting Glass | Various Artists |
| This is How I Disappear | My Chemical Romance |
| Til Kingdom Come | Coldplay |
**Bonus track, not available for listening on the playlist below (which changes at the whim of Playlist.com), but available at the
full Shade playlist at iTunes
.
Hear the Music
Here's a sampler of the
Shade
soundtrack. To see all songs, drag the white scrollbar on the right side of the playlist. You can also hear the individual songs by clicking on their titles. Enjoy!

Coming Soon: DISCUSSION FORUM!

(The following comments were imported from the old WordPress site.)